Financial, agricultural, health and clean technology identified as four key sectors in the province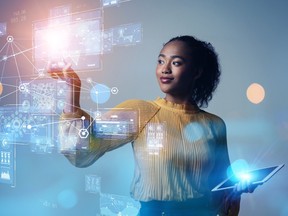 Article content
Employment in Canada's technology sector is forecasted to continue on the upward trajectory it has experienced so far in 2022, including in Alberta and the Edmonton metropolitan area.
Article content
The Computer Technology Industry Association's State of the Tech Workforce in Canada outlook estimates that total tech employment countrywide will increase 1.5 per cent over 2021 to reach 1,254,708 workers during 2022. According to the annual report, Alberta tech employment will increase by 743 to a total of 99,533 during 2022, placing it fourth in Canada behind Ontario, Quebec and British Columbia.
Article content
Tech employment job gains in 2022 are projected to total 432 in Edmonton, beating out Calgary's 219 increase.
A 2022 report by the Information and Communications Technology Council of Canada (ITCT) predicts technology employment will lead the province into the future. A Resilient Recovery: Alberta's Digital-Led Post-COVID Future by researchers and co-authors Alexandra Cutean, Mairead Matthews and Mansharn Toor says despite the impact the pandemic had on Alberta's economy, "the province's digital economy remained resilient and thrived."
Article content
The report predicts that four subsectors could drive significant employment gains in the province in coming years, including financial technology, health tech, clean technology and agtech.
However, the report cautions that employment growth could be hampered by a shortage of skilled workers, including the "brain drain" of people attracted to jobs in other jurisdictions.
"The degree of competition for skilled workers has only amplified over the last months, as other sectors recover or start to implement technology in their day-to-day-operations," write the authors of the report.
Several people interviewed for the report in Edmonton said that retaining recent post-secondary tech graduates is a challenge facing local employers which may be due to a misconception that there are not enough Edmonton-based tech companies to work for. The report's authors say employers in the Edmonton region suggest a need for further collaboration among industry, governments and academia to fill coming employment needs.
Article content
The Alberta government's Alberta Technology and Innovation Strategy, which calls for adding 20,000 new tech jobs by 2030, includes the Building Skills for Jobs initiative. This initiative is intended to boost access to post-secondary education and help attract, develop, grow and retain Alberta's tech talent pool.
"We must do everything we can to ensure that Alberta's youth develop the skills, knowledge and competencies they need to pursue successful and rewarding careers in today's economy," said Advanced Education minister Demetrios Nicolaides following the announcement of the initiative.
This story was created by Content Works, Postmedia's commercial content division.
https://edmontonjournal.com/technology/innovation-and-tech-in-alberta/employment-growth-in-the-technology-industry-is-driving-alberta-forward